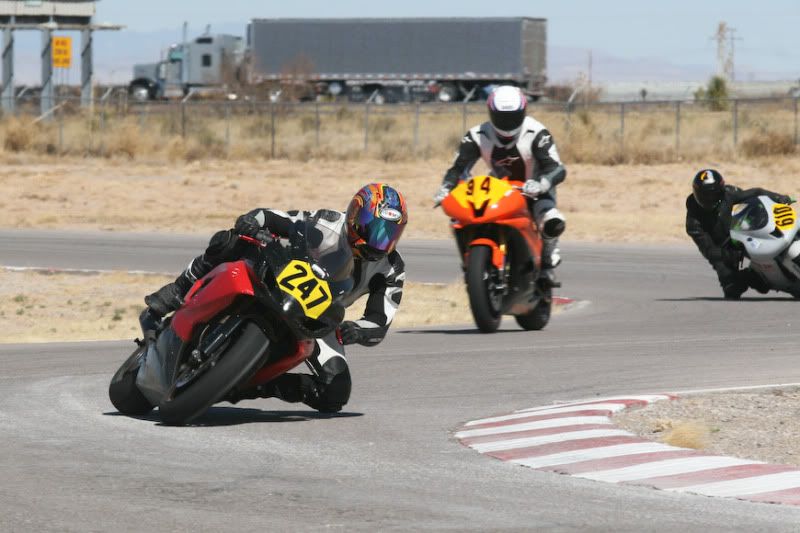 I've got my bike up for sale. Money is crazy tight now, and i would've never imagined that i'd sell my bike.
13,004 miles right now (75% of life of bike was on -2/+4 gearing so its pretty inflated). First 5k miles were street miles, then it saw track and street miles after that. Bike is currently sitting in my living room. I'm the only owner. Bought it brand new from Ride Now Cavecreek in Phoenix. I bought a service package so i've had all the scheduled maintenances through 15k miles (had the 15k service done early right before my service package expired in January) at Ride Now and i should be able to find all the receipts. If not, then Ride Now should have all the documents. It is a salvage title. I wrecked it in the streets in December 2010. I won a couple of races on the bike after the street crash earlier this year. Picture above is from the March 2011 round. In april, i put down a 1:12.7 on it in formula amateur. Since the April round, I put about 700 street miles and that's it.
Stock Motor
Bazzaz Z-fi quick shifter and fuel map including the self mapper with o2 plug installed with custom ESP map.
Full M4 exhaust
BMC Race Filter
Woodcraft Case Covers
Woodcraft Clips ons
Woodcraft no-cut frame sliders
Pazzo shorty levers
Vortex Clip Ons
Vortex keyless gas gap
Keyless ignition
Brand new 520 Front and Rear Sprockets with Vortex chain that i installed about 500 miles ago.
Galfer stainless brake lines
Vesrah SRJL pads
r6 throttle tube
Have tons of spairs inluding an extra swing arm, rearsets pegs and levers, bars, etc. Will also come with just enough parts to ride it street legal including rear brake lights and headlight. Will also include a rear stand.
Price is firm.
I live in Phoenix, but we can work out delivery details which might include me driving it to you in NM if need be.